hello, inchy hexagon flower ladies! i'm hydeeann. i'm a novice sewer and quilter of 3 years. i share my sewing over at
splish splash stash
{hydee ann sews (dot) blogspot (dot) com}. janet invited me to guest post here so that i could introduce you to my monthly link party that is especially for
epp
. it's called "
in hand
" and runs every second saturday of the month. the party kicked off in october with 21 great links to
epp
projects of all types.
it's actually through this party that i found your swap. i was visiting jan's post about
the lucy boston blocks
she is making, when i spied your swap button on her sidebar. so here i am to tell you about the party and invite all to participate.
i was introduced to
epp
this summer with the publication of the book
quilting on the go
by jessica alexandrakis and the blog hop that accompanied it. the portability of
epp
appealed to me so much. and i love handwork. at the time, i was getting ready to embark on a 5 week summer roadtrip with my family, so it was perfect timing for me to find this great addition to my sewing arsenal.
i sewed my way across most of the western united states this summer and have taken my project many other places since. it's slow going with my busy life, but i love this project. i take it pretty much where ever i go that i'm going to have some sit down time: family gatherings, sporting events, kids' lessons, dr's appointments, airplane trips. whatever.
since this is my "bonus" project (that
idea coinage
came from a description by sarah schraw of
sarah quilts
), i am sticking to this one project right now. normally, i have project
add
, and do lots of things at once, but with
epp,
i'm staying to one thing at a time. (i'll admit i have already purchased the shapes for at least two more projects i'd like to do, though!) however, there are several ladies out there with many
epp
projects going at once. this is awesome.
for my current project, i chose the ferris wheel pattern, which incorporates 1 1/2" hexies, squares, and triangles in an interlocked wheel scheme. i was inspired by a
cushion
i saw katy making at
i'm a ginger monkey
. i am having so much fun with this project. i try to sew at least one seam each and every day. on the mornings i get up early enough, i work on it before the kids wake up. sometimes i do a bit before bed. it really calms me as i sew all those seams by hand.
ever since i started with epp, i've noticed other quilters mentioning their projects here and there, but because it is such a longterm project, it just doesn't come up that often in posts. i decided it would be great to have a place where we could share these projects with other epp-ers. only other epp-ers can understand the real magnitude of the seemingly small accomplishment of one finished block or a handful of basted shapes. i wanted a place where i could see the variety of projects out there and where we could celebrate together and encourage each other as only fellow epp-ers can. so i created "in hand." and i invite you all to join us at the next party (or any thereafter), Saturday November 9th.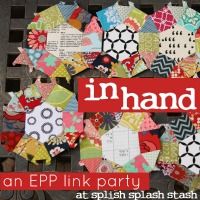 you are welcome to link up any post or flickr entry featuring some of your epp. i'm so excited to have found a group of 50 epp-ers! there should be lots of great projects going on to contribute from this pool of ladies. please pay attention to the party's few simple rules. i know - rules - yuck! let's call them guidelines. the guidelines are there to ensure the party runs smoothly, to give credit to all involved, and to enable courtesy for everyone.
for example, in the post you link up, please include a mention and link back to the party. this way others can find it. if it wasn't for jan's swap button, i would never have found you! so please extend the courtesy to your fellow partiers.
as the party grows, i hope to use it to share epp news, ideas, and resources. this coming month your swap will be featured. maybe you'll get some more members!
thank you, thank you for letting me crash your swap blog. janet said make it colorful, so i included lots of pictures. I talk a lot, so there are lots of words, too. I hope it wasn't too much! now that i found so many of you, i'm counting on seeing lots of great additions to our party next month. i hope to see many, if not all, of you there.
hugs and happy sewing!